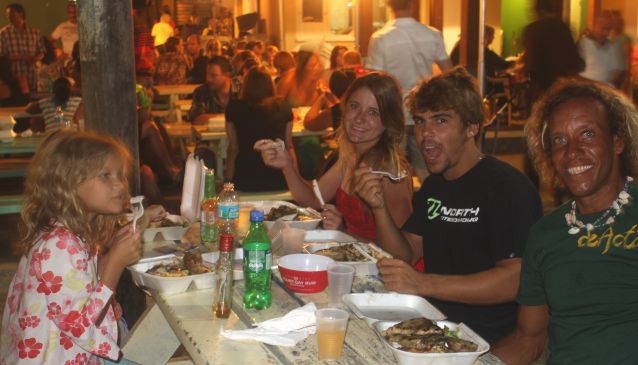 Top 10 Nightlife Spots in Barbados
Food & Drink
Bert's Bar, also known as 'The house of the Daiquiri', is one of the best known sports bars
Want to be swept up in the full Bajan experience? Then Oistin's Fish Fry is the place to do it.
Known best for its food, Oistins has a wide variety of Caribbean delicacies such as, swordfish, marlin, mahimahi and of course, our national dish, cou-cou and flying fish.
With drinks drinking, music playing, food eating, the atmosphere fills the streets. Join in on a friendly domino game, browse the stalls for some jewelry or even come early and take a walk on the pier and enjoy the sunset while getting swept away in the Bajan experiences.


After a long day of hanging out at the beach, you need a place to just sit, relax and unwind, and Lexy Piano Bar & Bistro is just the place for that.
Located at the end of Second Street, "Lexy's" keeps the drinks and food coming all night long, and with live entertainment you have the chance to show your talents by getting up and signing along with a live pianist.
A great choice, for a great night, with some great people.
Located on Carlisle Bay Beach, Harbour Lights, is the perfect place for 'nuff fun and drinks, dancing the evening away to soca, reggae & dance music, and meeting friendly locals.
With the live dancers in amazing costumes, fire breathers and live bands, the opportunities are endless when it comes to nights like these. When walking into "lights," you better be ready to move your feet because the dance floor is always filled with people dancing their night away to old Calypso and the new Soca music.
Come and enjoy Harbour Lights every Monday, Wednesday and Friday and their seasonal Sunday beach parties (only the locals know about which start from 5pm). In a place like this one, you never know where your night will take you.
Walking up the 1.3km road lined with a wide diversity of restaurants, bars and nightclubs running along both sides of the streets, such as Reggae Lounge, Lipgloss, Sugar Ultra Lounge, you will never run out of things to do.
You can also stroll up and down The Gap, looking at the different stalls in which you can buy all sorts of souvenirs, or taste authentic Bajan fare from the food vans parked along the road.
Photo courtesy Cafe Sol Mexican Grill & Margarita Bar.
Every Thursday is Black Pearl's exciting Taste of the Caribbean Dinner Cruise and Show. Sail away into the sunset while drinking a rum punch..or four.. and enjoy the entertainment of limbo dancers, fire eating, and stilt walkers, while listening to a live band play and enjoy themed dancing.
Savour many different cocktails and dishes from different parts of the Caribbean such as Bul Jol from St. Vincent, Jerk Pork from Jamaica and Fish cakes from Barbados. Watch as the crew of pirates gets everyone in the spirit and up moving on their feet dancing the night away. It's a great show and experience …something that you will not want to miss!
Open everyday, The Boatyard, is one of the best among the numerous beach bars on the South Coast. Located on the soft white sands of Carlisle Bay beach with its crystal clear turquoise water, The Boatyard is the place to go when wanting to put your feet up, spending the day relaxing on beach chairs soaking up the sun with a few good friends and some drinks to cool you off.
The Boatyard offers it all! A place where you can sit and lime with your friends, grab a drink and have a bite to eat!
Even though "Carib" may look like just a little lunch area on Carib Beach during the day, Carib turns into something completely different at night. With live festive music bursting out of the walls, there is always a smile on someone's face – this beach bar never fails to entertain.
The Carib Beach Bar is a great place to come and join in with the locals, dance, laugh and have a great time.
Bert's Bar, also known as 'The house of the Daiquiri," is one of the best known sports bars on the island just to eat, drink and chill with friends. The bar is filled with 24 flat screen televisions so that those sports fans will not miss one second of the action.
For those non-sports fans, Bert's Bar also allows you to enjoy other things such as, a dip in the pool, which is open at night, or simply just hang around the bar, order some drinks and food and let the night take you.
Located on the West Coast of the island, in second street, Holetown, Elbow Room offers a unique dining experience for dinner and after, is then transformed into one of the hottest nightspots for people to go to on weekends.
Especially on a Friday or Saturday night, Elbow room, has a lively atmosphere unlike any other and will definitely put you in a good mood for the rest of the night. Whether it is for a dinner with family or friends, or if you are looking for a night out on the town, Elbow room is definitely the place for you!
Written by:
Sally & Keith and Keith Miller
PUBLISHED: Jun 9th 2017