Top 10s - Things to Learn to Do in Barbados
Inspiration
Get off the beaten track and gain a new skill to boot.
Shake a Leg
Sure, anyone can jump onto Harbour Lights' dance floor and impress a drunk buddy with the Macarena, but if you're looking to add a little finesse to your fleetness of foot, why not learn to dance. Ballroom, line dancing and Latin dance classes are held on various days around the island for both newbie and advanced students, with accommodating instructors. It's also a great way to get up close and personal with the locals. You won't even need a partner.
Use it for:
The manager's cocktail party at your hotel
The destination wedding reception you flew in for
Ballroom dancing at the fishfry in Oistins on Friday and Saturday nights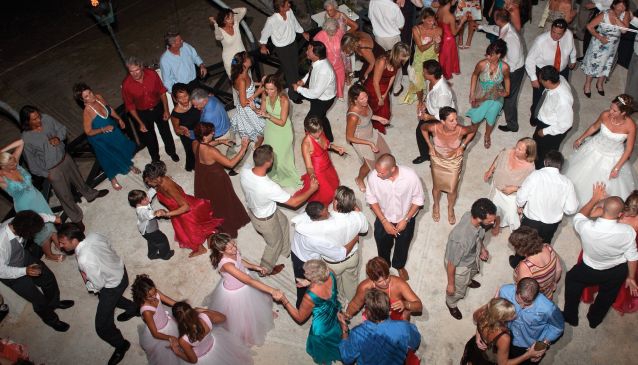 Snap a Great Pic
Ok so you've made it to Barbados and you'd like to be able to take more back with you than a tan and some grainy, out-of-focus shots of your kids on the back of an Island Safari jeep, why not sharpen up your photography skills? Gina Francesca Photography offers photo tours of the island. She'll accompany you to the best spots on the island and give you the tips you'll need to take a slew of great travel shots. Joel Brooks offers photography classes on Saturday mornings usually, but feel free to contact him as days and times can also be flexible. No prior training is necessary.
Use it for:
Our My Guide Biggest Baddest Bucket List Competition
Updating your travel blog – you could call it "The Best Barbados Vay-cay Ever!"
Capturing a Getty-worthy paparazzi shot of Rihanna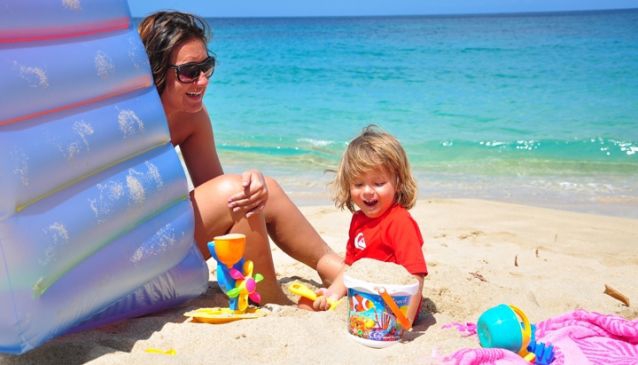 Swim like a Flying-fish, Dive like a Turtle
Depending on where you call home, you may not have seen it necessary, or have had the opportunity, to get out there and learn to swim. But now you're on a tropical island, surrounded by miles of pristine beach and of course lots and lots of warm, inviting ocean. Why not learn to swim, or even better yet, learn to dive. Classes are available in swimming at the Aquatic Centre for both children and adults and experienced swimmers can train with one of the local teams. Reefers & Wreckers offers dive classes daily in the morning and afternoons and if you love it, you can pick up all the supplies you'll need for future dives from Hazell's Water World.
Use it for:
Swimming with the turtles on your next catamaran cruise
Walking fearlessly up the plank when the pirates try to throw you off the Jolly Roger
Finding the long lost treasure of Christopher Columbus (ok that doesn't really exist, but you could have some fun trying).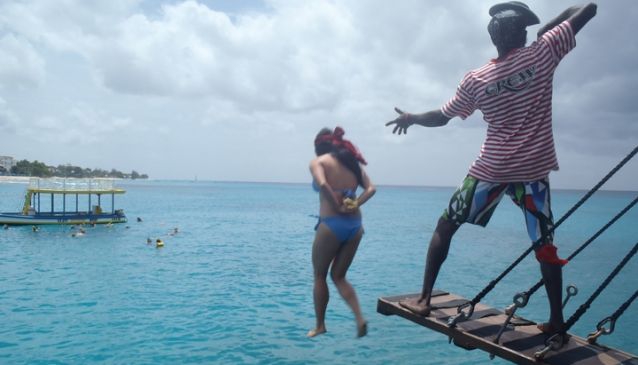 Take to the Skies
Maybe you never gave it a second thought at home, but you're on vacation, anything goes. If you want to check something else off that bucket list, get off the beaten track and gain a new skill to boot why not...learn to fly: The Barbados Light Airplane Club welcomes locals and visitors to take lessons in flying from their base on the South Coast. Just chat with Ronald or Derek. You can also, for the first time in Barbados, take a Microlight Flight from the club – the open cockpit makes for a thrilling way to check out the northern sights.
Use it for:
Bragging rights around the watercooler when you get back to your cushy office
Extra 'insurance' on that return flight home
Padding up your 'Most Interesting Man in the World' resume
Discover Your Artistic Side
Not an artistic bone in your body you say? You'd be amazed at what people buy these days. More importantly, what better way to experience local culture than to immerse yourself in it. Henderson Reece was asked so often if he offered lessons in the art form batik, that he decided to oblige. No idea what that is? Here's your chance to find out. His full day course includes all materials and lunch to boot. Mark Maynard and Indrani Whittingham also offer convenient art classes worth looking into on both a short and long term basis. Call for more information.
Use it for:
Creating wonderful keepsakes to take back with you
Making some money if you mistakenly spend all your travel cash
Adding a very personal and beautiful touch to your home or villa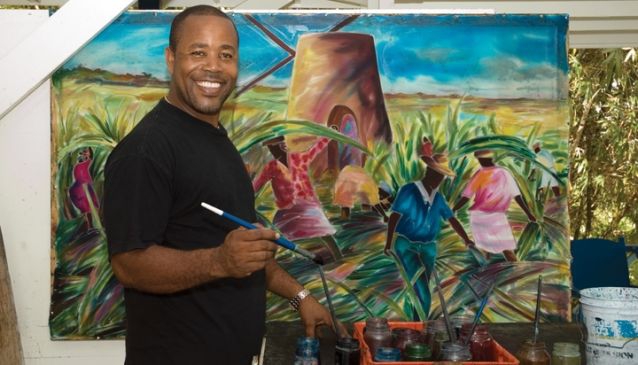 Cook like Somebody's Business
Carsten Flindt, Sandy Lane Hotel and one or two of our local restaurants and chefs offer small interactive cooking classes where you can learn the ins and outs of fine cuisine. Carsten can also arrange private sessions (where his team brings the fun to your home or villa), cook-offs, and team building or group cookery workshops. So why not...learn to cook like the pros!
Use it for:
Experiencing world cuisine with an island influence
Learning how to bring a bit of Bajan flavour into your kitchen
Especially in the case of the Flindts, having your cake and eating it too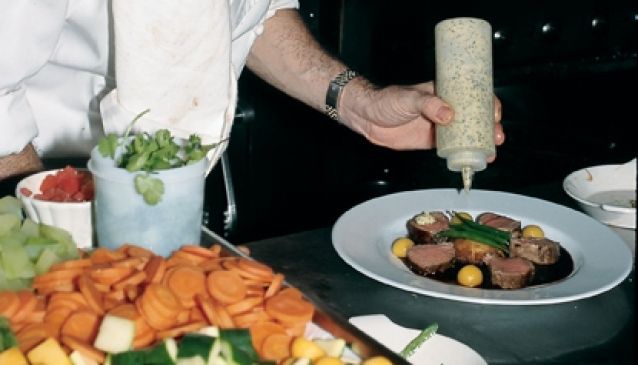 Serenade Someone
Ok so maybe you won't leave Barbados able to play one of the Merry Men's famous ditties if you're here on a two week holiday. But maybe if you're here on an extended stay, or do regular lessons back home and don't want to have to break for vacation, why not learn to play guitar! Gate 6 Guitar Studio's David Collins offers children's intermediate and adult lessons in steel string acoustic, classical nylon or electric guitar.
Use it for:
Annoying, er, serenading the neighbours back home
Picking up a fun new hobby
Finally starting that garage band you wanted to when you were sixteen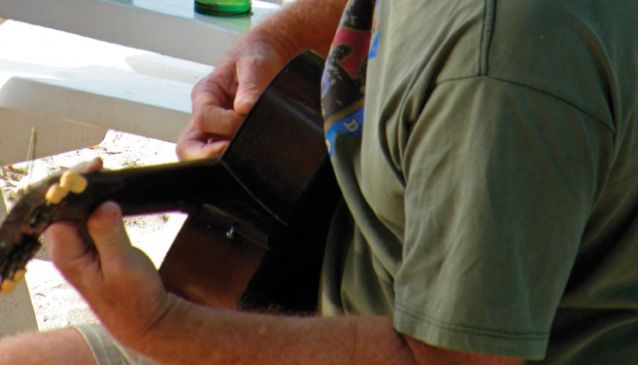 Play Nice
Whether it's golf, tennis, squash or polo there are myriad opportunities to get out and either learn to play something new or get a little tropical exercise in your favourite sport. Not only are excellent lessons offered in these disciplines at reasonable rates, for adults and children, beginners or advanced players, but various sports associations around the island welcome newcomers and visitors to a little friendly competition. When you've had enough of the beach for a moment, getting into a sport is a great way to get the adrenaline pumping, so why not learn to play a sport.
Use it for:
Bonding with your kids away from the buffet line
An excuse to get a really good massage
Finally meeting that cute tennis/squash/golf/polo instructor (oops did we say that?)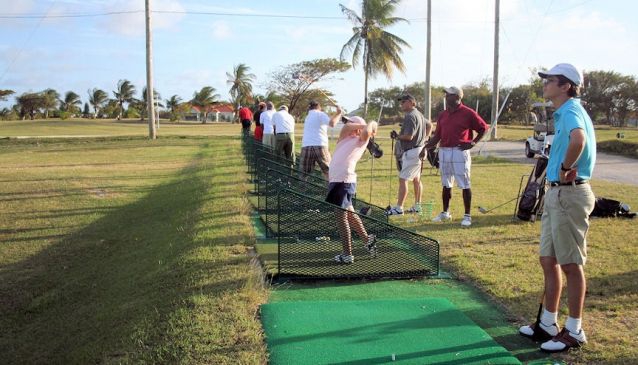 Ride off into the Sunset
Ride Barbados teaches English riding and private dressage and show jumping lessons can be arranged. Rides are available from 8am to 4pm daily. Alison Cox of Beau Geste Stables also offers lessons for beginner riders, morning and afternoon lessons.
Use it for:
Experiencing the natural beauty of Barbados and getting off the beaten track
The sake of it, because you just LOVE horses!
A romantic way to pop the question