Shades of Light
Arts & Culture
Our Top Experiences and Tours in Barbados:
If youʻre booking your trip to Barbados last minute, we have you covered. Below are some of the top tours and experiences!

It's 21st January, Errol Barrow Day and a public holiday in Barbados.  The beach is full of families having fun in the sea and amongst them is a white haired figure bent double and obviously searching for something beneath the crystal clear waters.

This is Ned Bowes, a Canadian stained glass artist, collecting small pieces of glass which have been washed smooth by the sea. He is the man responsible for the magnificent stained glass window I have just seen in St. Peter's church in Speightstown, although it bears no details of his name or why it was created.

Ned has a studio in the centre of Speightstown which he rents from Clement at the Fisherman's Pub for 3 months each year. His wife, a district attorney in Canada, often joins him for a few weeks while he is on his travels but he spends a large proportion of his time away from home.  While in Barbados he spends 1 ½ hours each day collecting glass from the beach and he now has about 30,000 pieces waiting to be collated at his studio.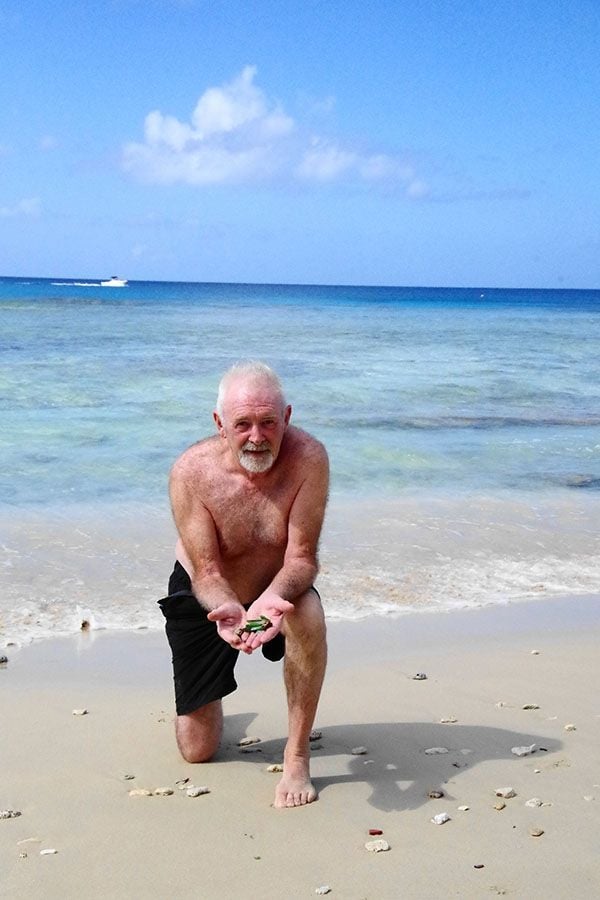 This all began when Ned was working on the oil-rigs as a result of his background in combustion engineering. His work cycle was 3 weeks on and 2 weeks off and it was during one of his off weeks that he happened to pass by a gallery, which was owned by Robert Hunt in his home town of Calgary.
Drawn into the gallery, he saw that Robert was running an 8-week course in the art of stained glass. He signed up for the course straightaway.
"I finished it in 3 days", explains Ned.  "Robert was so impressed that he hired me on the spot to make stained glass windows".
He soon progressed from flat work to making 3-dimensional objects such as Tiffany lamps. By 1975 stained glass was enjoying a revival in the US and Canada and Robert Hunt started to sell franchises.  Ned then began training the franchisees but very soon decided to open his own studio, called "Shades of Light".  After returning to his roots in New Brunswick he began teaching at his studio and also at the university.
In 1980 he spent five weeks with Maurice Larieux, an apprentice of Marc Chagall, learning how to paint on glass and he also decided he wanted to learn glass blowing. He studied this in Scandinavia and finally became interested in restoration work, chiefly in churches. Eventually he stopped teaching altogether to concentrate on church restoration work, which he has now been doing for 15 years or more, mainly in Canada, USA and also the UK, where he has worked on both Canterbury and Salisbury cathedrals.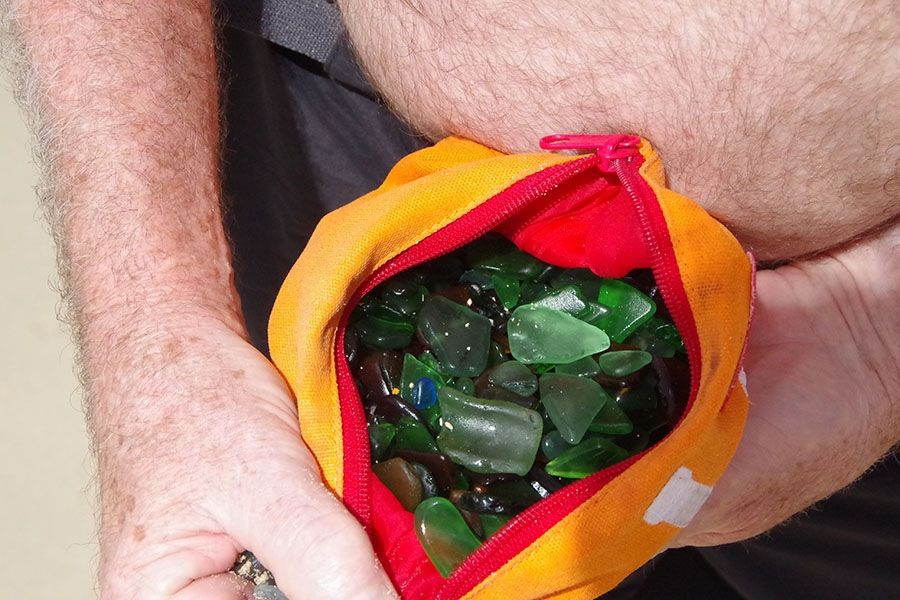 So how does he come to be working in Barbados?  Some years ago Ned's father-in-law had a house on the island and while on a visit he went on a tour of St. James' church. The guide asked him what he did for a living and when he answered, the response was simply: "We've been waiting for you".
As a result of a fire at St. Peter's church in 1980 the water from the fire hoses had crazed the glass in the main window above the altar and the window went from 1,100 pieces to 20,000. Ned restored this window as well as the large window in St. Lucy and built two completely new ones at St. Luke's.
The wonderful window he has created in St. Peter's church took him about 300 hours to complete. He donated his time and the church paid for the special optic cement needed to ensure the glass remains transparent.
The design was changed three times before work finally began and incorporates the two keys, which are the symbol of St. Peter, and the text from the Bible: "I will make you fishers of men".  The surround is composed of silver flying fish. "I like to find a quote from the Bible and work around that theme", says Ned, who is now working on the design for a second window with the same border of flying fish.  He will finish it before his three month stay in Barbados comes to an end.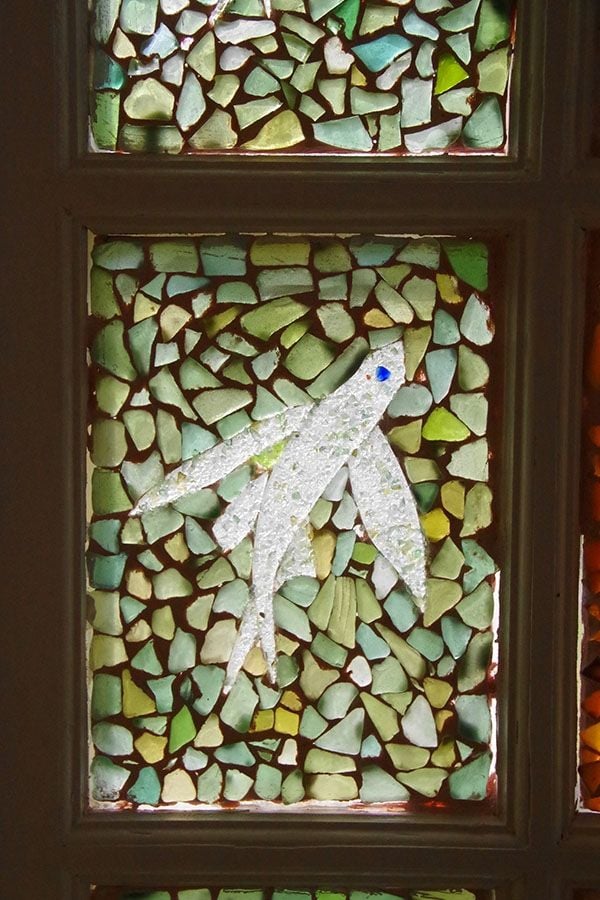 I was so inspired by Ned's story that I spent the last two days of my vacation scouring the beach for coloured glass, which I intend to try and make into a mini-window of my own.  I won't be able to consult Ned though because when he isn't occupied with preserving and restoring the beautiful windows of Barbados' churches, he is busy back in Canada building timber-framed barns.  But that's another story. 
Sarah Hurcum is a keen photographer and writer who enjoys travelling. While Sarah spends most of her time in the UK and Spain, every January she makes a point of visiting Barbados, an island that she loves dearly.