The Walkers' Life...a Love Story
Arts & Culture
"I always thought I had had a rather quiet life. However, since I was persuaded to produce this book, I realise it has been the most fabulous life, and I have been extremely lucky." (Jill Walker, in her autobiography, Jill Walker's Barbados)

Jimmy and Jill Walker, like their brainchild Best of Barbados shops, have been household names in Barbados for more than 50 years, and to paraphrase a popular folk song: "The name gone abroad!"

I've called this 'double bio' a love story, because it's a story of two like-minded, creative, conscientious, hard-working, adventurous people, who met by chance 4,000 miles from their British homes; who fell in love with each other; who fell in love with the Caribbean; who fell in love with Barbados; and who fell in love with working together, and with loyal teams and loyal family for the good of Barbados.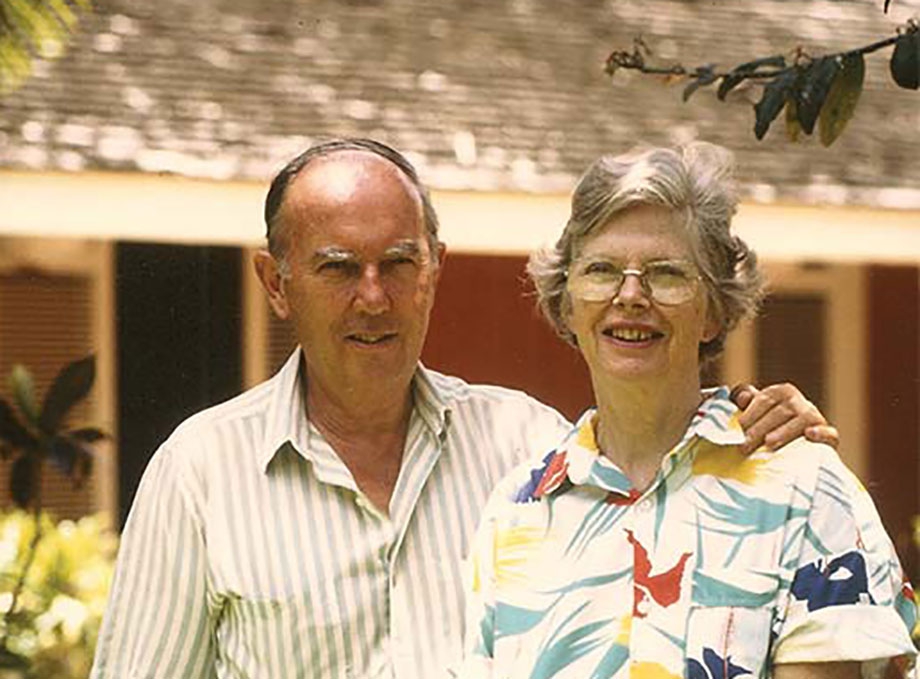 Jimmy was a Scottish architect, on contract in Guyana, (British Guiana) as Chief Architect to the government. Jill was a brilliant young artist, establishing a reputation in London both as theatre designer and portrait painter, but her spirit of adventure led her to buy a one-way ticket on a freighter to Guyana in 1955 to visit a friend. Little did she know she would meet the love of her life on the very first night she arrived! To cut a long story short, Jimmy was seconded to Barbados after Hurricane Janet's blow of September 22nd to help our government to design and build low-income housing for the thousands who lost their homes. Jill followed, they married, and the rest is history!
After sailing mainly on schooners around the Caribbean they returned to Britain, but were soon back to Antigua, in partnership with architect 'Happy' Ward, and then back to Barbados with him to design Sandy Lane Hotel. And three homes, 55 years and a famous business later – Best of Barbados chain of 'the best' of art, gift and souvenir shops – Jill's words speak for them both: "A fabulous life"!

Jimmy's love for architecture has always been foremost, and his designs covered the spectrum of local government housing schemes of the fifties to Sandy Lane Hotel and villas. He restored Byde Mill Plantation and its mill wall as his home. He advised many, pro bono, and as an early and long-standing member of the Barbados National Trust, serving as first vice president, he made a huge contribution to the preservation of our historic built treasures. And when I began to study our historic buildings his opinions were extremely helpful.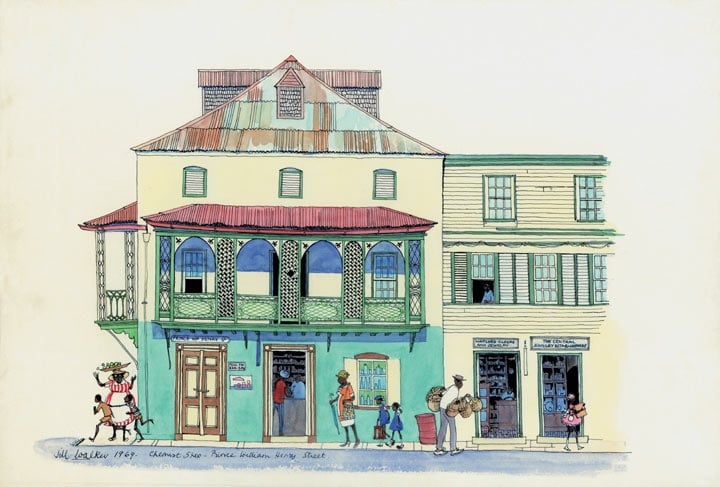 Meanwhile, Jill was making a big name as an artist, and in spite of her skill as a portrait painter, illustrator and landscape painter, she developed a passion for Barbadian vernacular architecture. Her creativity and versatility knew no bounds, and eventually Jimmy realized that there was a huge opportunity to market Jill's work. And so he gave up his architectural practice and they opened their first shop at Sandpiper Inn, on November 14th, 1975. The late Oscar Davis, a true friend of Barbados, suggested the name Best of Barbados. They never looked back, and today Chris Trew and wife Sue (nee Walker) run the business side and painting and designing side respectively, from the old sugar boiling house at Welches House, which was bought from Sir Frank Worrell in 1966. But there's no better way of telling the fabulous story of Jimmy and Jill Walker than by referring to the amazing, sumptuously illustrated, beautiful book Jill Walker's Barbados, subtitled 50 years of Barbadian Life recorded in Jill's Drawings and Paintings.

I wrote at the time: "I consider this book to be ONE OF THE VERY FINEST BOOKS EVER PRODUCED IN OR ABOUT BARBADOS, and it can be classified under any of three EDUCATIONAL categories, which it combines wonderfully in a single volume: ART, ARCHITECTURE, AUTOBIOGRAPHY OF AN ARTIST.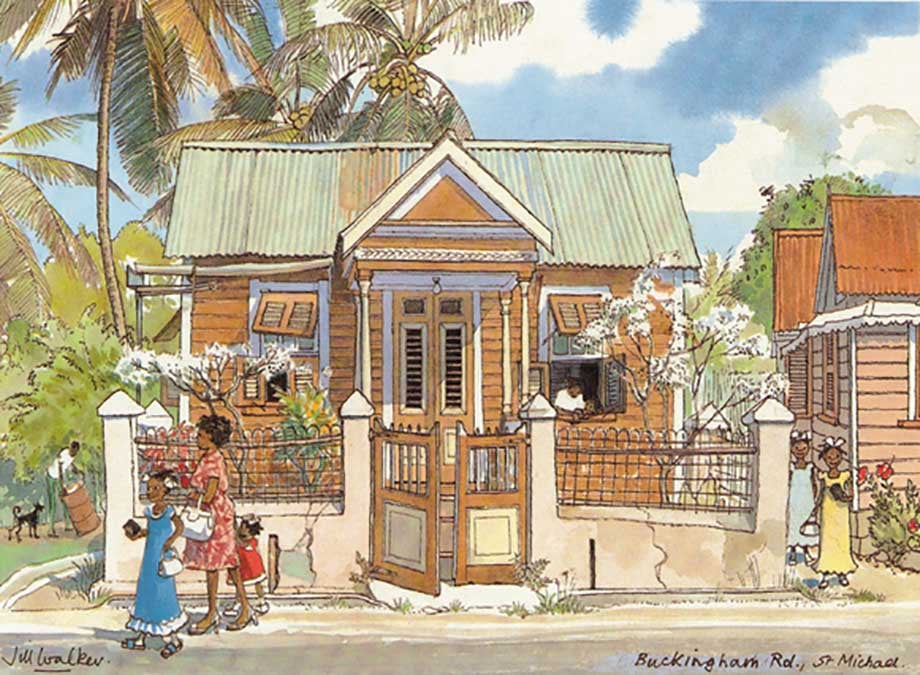 Firstly, Mrs. Walker is one of the truly outstanding artists living and working in Barbados and her work has been dedicated to the accurate documentation of Barbadian buildings, landscape and life. Her best-known work provides the most extensive and invaluable archival documentation of the architecture of Barbados ever carried out, surpassing the only other 'collections', of the artist Mr. Virgil Broodhagen and one of my own books, and it is all included in this book. Many of the buildings seen here are tragically demolished, and these are therefore the only records for posterity of lost treasures and soon to be lost treasures of our patrimony.

Secondly, her other, significant artworks are in private collections and not available for study, and therefore this book does a singular service in making this outstanding, 'hidden' work available to artists and students in Barbados and the wider Caribbean in particular.

Thirdly, the autobiography of any famous artist, writer, playwright or significant creator is automatically a work of scholarly interest. Mrs. Walker's fame extends far beyond Barbados and is beyond dispute."
It is one of the ten books I would take with me on a desert island, and it tells a wonderful love story!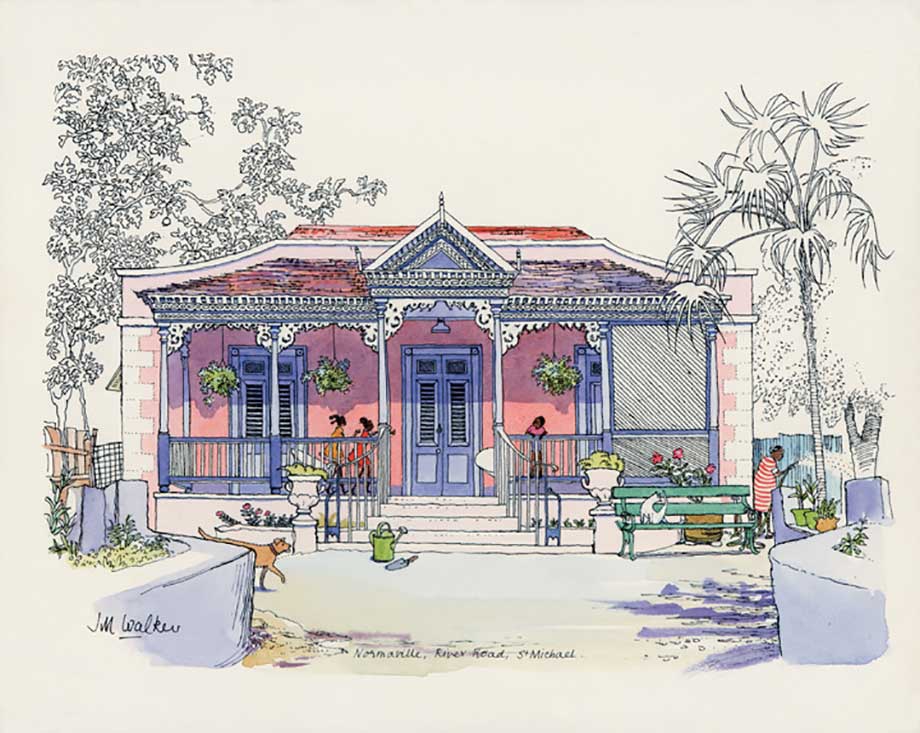 Written by: By Senator Professor Emeritus Sir Henry Fraser from 2016 edition of the Ins and Outs of Barbados