Cruise to Lunch
Family Fun
There is an incredible range and diversity of restaurants and dining options available in Barbados
With a variety of interesting and fun things to do while you are on-shore in Barbados: shopping, sightseeing, sailing, snorkeling... just to name a few, you will be sure to work up a fierce appetite!  Well lucky for you there is an incredible range and diversity of restaurants and dining options available in Barbados. In fact, Barbados has become known as the dining capital of the southern Caribbean!!! From fresh lobster to rotis and fish cutters (Bajan version of a sandwich) and anything in between... the options are endless, and more importantly, delicious! So during your day out and about in Barbados, be sure to include a lunch stop at one of these delightful venues, known for their culinary delights:
South Coast Restaurants
Jolly Roger Tavern - This casual dockside bar and restaurant located in Bridgetown, is a great place to relax and grab a bite to eat after you shop in the nation's capital. The lively atmosphere is supported by live steel-pan music daily and their famous Pirate Punch! Open for Breakfast from 7am-9am and Lunch from 11am-3pm. *Ask about their Historic Bridgetown Walking Tours.
Lobster Alive - Beach Umbrella's, beach bar and Lobster ... need we say more! Located on the beach in Carlisle Bay, just south of Bridgetown. A varied menu and even something for the kids! It's a popular place so reservations are advised.  Open everyday for lunch from 12-3:30pm.
Brown Sugar - Located just outside of Bridgetown, this is authentic Bajan food at it's best. Their all-you-can-eat four course feast is fantastic value for money.  Lunch is served Sunday through Friday from 12-2:30pm.
39 Steps - A popular bistro and wine bar: casual and fun. Lovers of good food and wine, this is the place for you! The food is consistently delicous and reasonably priced. Lunch from Monday-Friday.
Fusion - Lovers of Sushi will enjoy this ocean front spot. A wide selection of Japenese, Thai and Cantonese cuisine. Air conditioned and al fresco dining available. Lunch is Monday - Friday from 11:30am - 3pm.
The Chopping Board Kitchen at Mojo - Fast becoming a popular place to enjoy really delicious, reasonably priced food - their burgers are legendary! With a focus on healthy and organic eating: salads to shrimp there is something for everyone. Great for families. Open Monday - Saturday 10am-1:30am.
Tapas - A beautiful spot right on the south coast boardwalk, just a few feet from the water's edge. With a variety of tapas dishes and an à la carte menu there is something to satisy any palate. Casual, bubbly atmosphere. Open daily from 11:30am.
Café Sol - This is the island's original Mexican restaurant.  A lively, fun spot with ocean views located at the entrance to St. Lawrence Gap. With a wide variety of Mexican favorites and margaritas, you'll definitely want to shout Ole! Lunch is Tuesday - Saturday from 11:30am.
Apsara Sumadra - Located on the seaside in St. Lawrence Gap, Apsara Sumadra is renowed for their excellent Indian and Thai cuisine.  Sit indoors in the breezy dining room or outdoors and enjoy the breathtaking views of the Caribbean Sea. Open for Breakfast Monday - Friday 8am-11am and for Lunch Monday - Friday 12pm-3pm.
Bert's - Famous for their daiquiris, Bert's is the perfect place to eat, drink and chill! Located just across the road from the lovely Rockley Beach, allowing you to combine some beach time with a few daiquiris and lunch from Bert's varied menu which offers traditional Bajan fare, vegetarian options and even authentic stone fired pizza! Have lunch by the bar while watching international sports coverage, or chill poolside with a cold draft beer. Open from 11am, and earlier when big sports matches are going on.
Harbour Lights - This world famous nightclub on the picturesque Carlisle Bay beach is open during the day for Cruise goers.  There are fresh water showers, changing rooms, bathrooms and free wi-fi! Delicious local delicacies are served up from the grill and a wide seleciton of cold beverages are served at the bar. Beach chairs and umbrellas are available for rent.
L'Azure at The Crane - With breathtaking views of Crane Beach, L'Azure has a relaxed atmosphere and a menu sure to tantilise your tastebuds. Their lunch menu offers International and Caribbean options and their deliciously prepared seafood is renowed. Open daily from 7:30am-9pm.
Champers - With a beautiful setting on a cliff top at the water's edge, Champers has a solid reputation for consistently good food, with value for money.  Experience the enhanced elegance of dining upstairs in it's spacious dining room. For the art lovers, there is original art on display as well as a dedicated gallery. Open for lunch Sunday to Friday.
Cuz - Don't be concerned by the size of this neighborhood institution - less than 50 square metres in size, located in a car park by Pebbles Beach on the South Coast you will find Cuz's snackette. Started over 60 years ago by his dad, Cuz's snackette is legendary and has a reach that extends overseas. A favourite spot amongst visitors and now listed as one of Newsweek's 101 best places to eat around the world. The food is fresh and delicious and the fish cutters are renowed. Open everyday from 11am.
Sunbury - This is a superb example of a Barbadian Sugar Estate - Sunbury is over 300 years old! Have a tour and then enjoy lunch in The Courtyard Restaurant offering Bajan specialities or choose from their a la carte menu. It really is a beautiful and tranquil setting in the St. Philip countryside. Open everyday for Buffet lunch.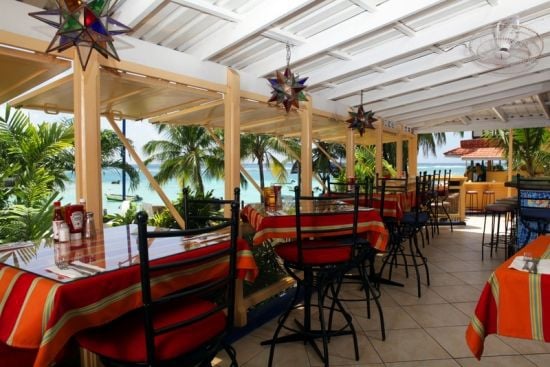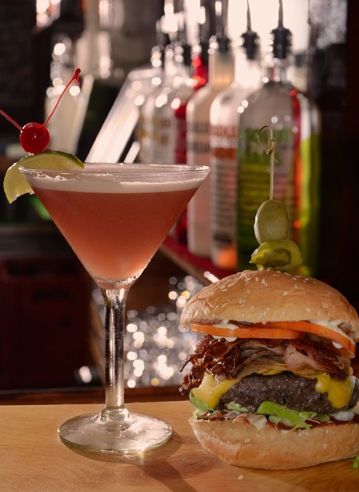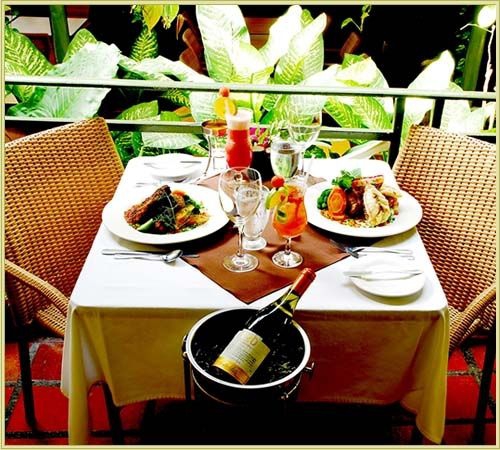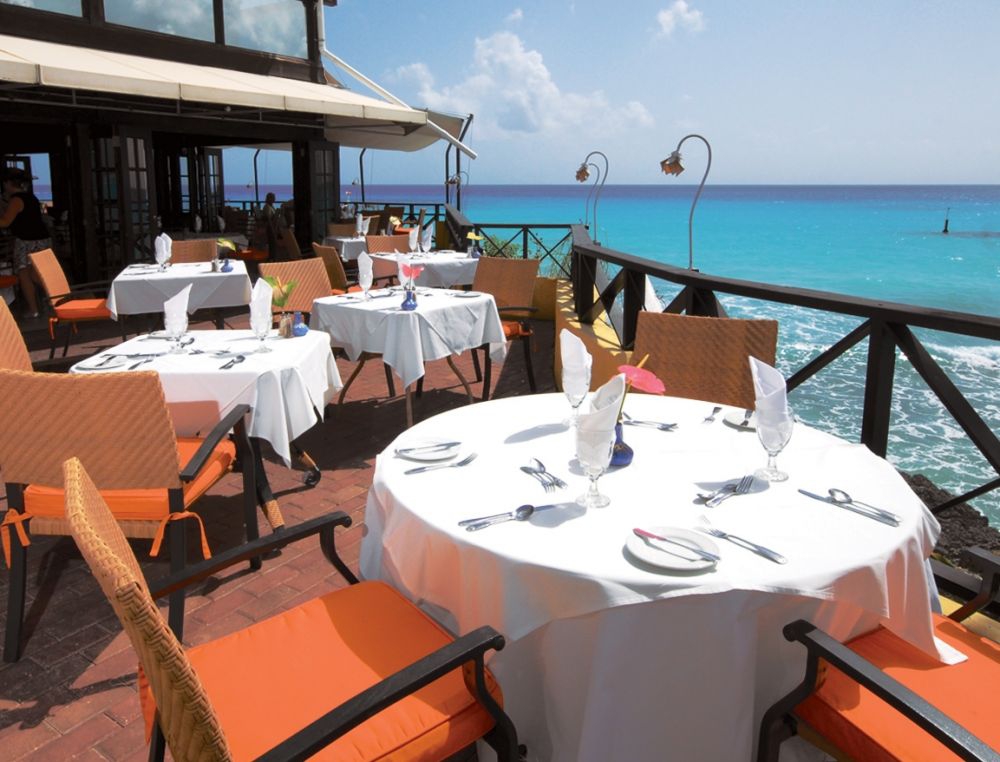 West Coast Restaurants
Cin Cin - A refreshingly contemporary and elegant restaurant, perfect for ocean side dining. You can dine on the outdoor terrace just a few feet above the sea, or enjoy the air-conditioned comfort of their indoor dining area with uninterrupted views of the sea. An eclectic range of mediterranean-style dishes with a Caribbean twist ensures a dining experience that usually exceeds expectations! Open for Lunch Monday to Friday 11:30am - 3pm.
Lone Star - Patrons at this converted 1940's garage include a world of celebrities and sports stars. With a spectacular beachfront setting you can enjoy an International and Caribbean menu. A bar and lounge area by the beach make for a perfect opportunity to relax on one of the west coast's best beaches and enjoy Lone Star, which maintains its status as "The Temple of Cool" in Barbados. Open everyday from 10:30am.
The Fish Pot - Located on the North West Coast of the island, The Fish Pot occupies part of a converted seaside fort. With its casual style and pleasant service it offers all the elements to keep it's guests loyal. The chef draws his insipiration from the sea and has created an menu with impeccable Caribbean fare. Open daily for breakfast and lunch from 8:30am-3pm.

East Coast Restaurants
The Round House - You'll find this 19th century landmark on the rugged East coast of Barbados. They offer a wholesome, delicious menu and use the freshest ingredients ensuring a memorable experience. Be sure to try their famous flying fish paté, or baked Brie in rum nut sauce! Open daily for breakfast, lunch and dinner.
The Atlantis - A beautiful spot overlooking Tent Bay in Bathsheba is home to the historic Atlantis Hotel, serving high quality, traditional Barbadian cuisine. Their famous buffet lunches on Sundays and Wednesdays is the perfect time to sample the delights of local food.  Open everyday for Breakfast, Lunch, Tea and Dinner!
Naniki - Located in the verdant hills of the Barbadian countryside, Naniki is famous for its exotic Caribbean delicacies. Grilled seafood, poultry or pork served with yam, breadfruit and sweet potato are just some of dishes offered. There is even a menu for vegetarians! Their Buffet and Jazz Sundays are very popular.
Bombas Beach Bar - With it's colourful setting, eclectic music, fresh and organic foods, Bombas is located north of Mullins at Turtle Bay. Friendly service and a menu offering fresh and organic foods. The seafood catch is brought in daily. You might be lucky enough at lunch to see a visiting turtle at high tide!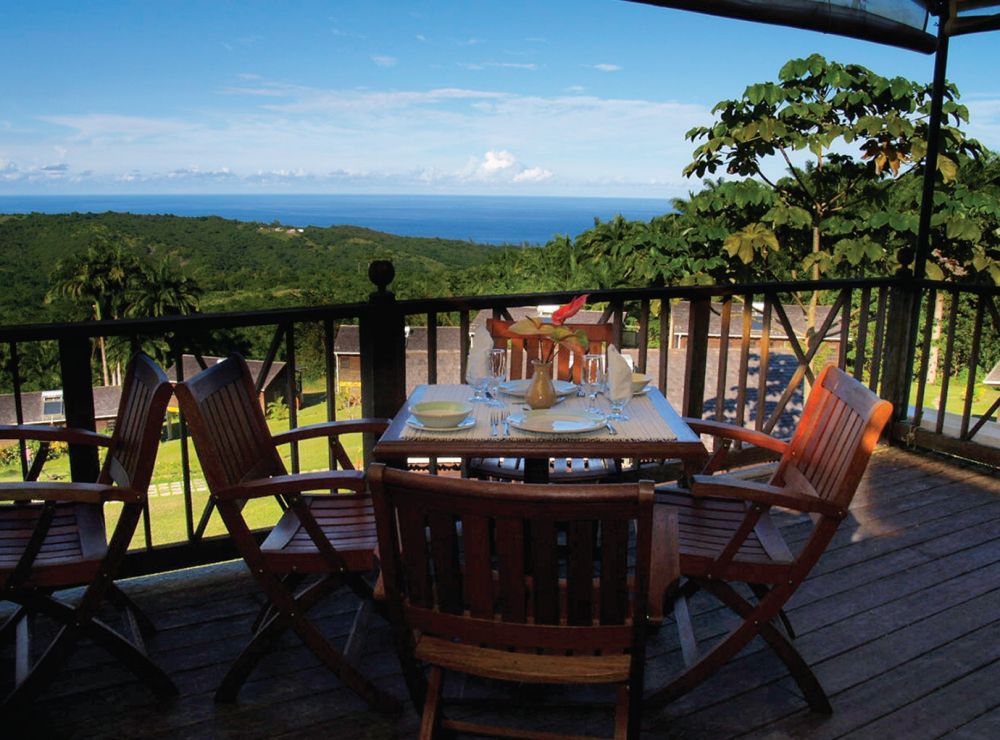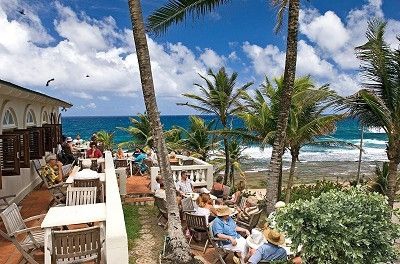 Be sure to check out our Restaurants section to see more of what Barbados has to offer your tastebuds!