A Guide to Holidaying with Friends in Barbados
Arts & Culture
Barbados [is] our
Our Top Experiences and Tours in Barbados:
If youʻre booking your trip to Barbados last minute, we have you covered. Below are some of the top tours and experiences!
Fish, Foxtrot and something else beginning with F
...Friendly Faces, perhaps. You'd be hard pressed to find anywhere that better meets that description. After my last visit to the paradise island I submitted to this website a short tribute, called -- if memory serves -- "Gardens, Garrisons and Galleries: the Other Barbados" on the principle that you can just never have enough alliteration.
We have just returned home to Sussex in the south of England from our fifth break in Barbados in the past six years so the place must be doing a lot right. Our initial visit was planned as a post-op rest cure for the head of the family (it's ok, I don't think the wife will see this) but didn't really turn out like that as we found from Day 1 that there was so much to see and do – even without being massively into water sports. We've refused to give up our previous practice of touring the world whenever possible but seem to have positioned Barbados as our "Go To" place when we need guaranteed hospitality, sunshine and pleasure.
On each visit we have made the excellent Bougainvillea Beach Resort on the south coast our base, on the grounds that it worked so well first time round that we have seen no reason to shift. We have appreciated the flexibility of its self-catering apartments, the view from our room across the pool to the sea and the convenience of the on-site restaurants and other facilities. There is something warm and welcoming about returning to the place from an evening spent elsewhere to wander through the foyer and past the illuminated pool bar to the beach.
On this holiday, wishing to share our discovery, we took with us two old friends from the Manchester area where we used to live. This hugely added to the holiday experience, made for more varied photos and made better use of the "happy hour" two-for-one special offer on rum punches.
This being our fifth visit (never having made it to any other Caribbean location), we were not under the usual pressure which I experience to tick off the sights, which was handy as the wife was initially in post-bug recuperative mode and understandably reluctant to be marched round the island and subsequently tested to see how much she had taken in. Nevertheless, we followed our normal procedure in picking up an open-top jeep at the airport and headed straight to the Bougainvillea, just in time to follow via iPad from home my football team's leaking of three disastrous late goals. My consumption of four assorted cocktails in swift order by the hotel pool scarcely made an impact on my state of grief, but I recalled them well the following morning.
There may be those holiday makers who restrict themselves to their hotel and nearby beaches but, if so, they're missing the heart of the island. On this trip, although pulling back a little on our hit list, we nevertheless enjoyed return visits to Harrison's Cave, the George Washington House, Sunbury Plantation House, the fortnightly horse racing at the Garrison Savannah and several galleries and gardens – including what has become one of my favourite places in the Milky Way, the wonderful Hunte's Gardens, which I have earmarked for my daughter's nuptials. All she has to provide is the groom, and I have put together a list of suitable Liverpool FC footballers from whom she may choose. I can't do everything for her.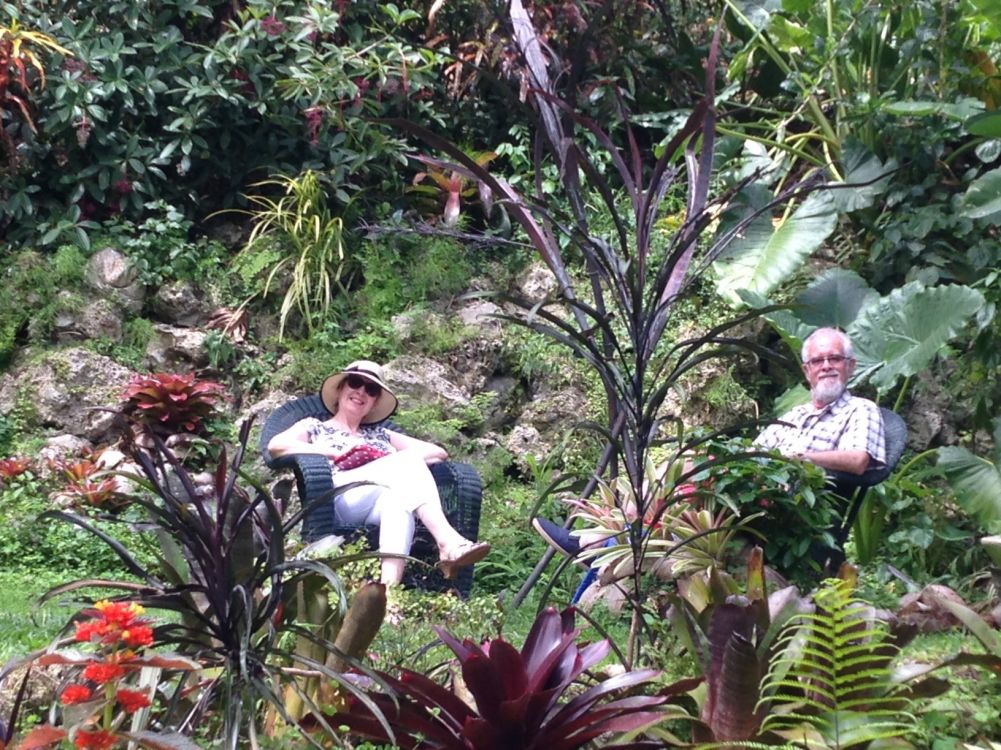 We also revisited the splendid Harry Bayley observatory, which I presume was originally sited in open countryside but is now almost surrounded by the spreading suburbs of Bridgetown. It is almost domestic in scale and appeared on our previous visits to be gently expiring but has recently been refurbished and re-equipped.
We took in Sunday brunch and gospel singing at The Crane on the island's south-east coast. Now, I have problems with eat-all-you-can buffets – I put it down to being from the post-war generation which was obliged to eat up everything on its plate, which, at a buffet, can tend towards the infinite and effectively wipe out the rest of the week. Gospel singing, I like. But caution is still required when it comes to investing in a CD to take home in the belief that it will magically reinstate the full Caribbean experience in a draughty lounge in Sussex. In my experience, that impulsively acquired disc will, once you're back home, be played as frequently as all the other ones you've bought at airports around the world. That is, not at all. Some things are best left in their natural habitat far away, like Portuguese fado, like retsina, like Donald Trump.
This particular Sunday in May was Mothers' Day. In addition to boosting the numbers at the brunch, this event also accounted for a large number of family gatherings elsewhere in the island – and one unusual phenomenon when our friends, busy exploring on the east coast, were nearly flattened by a cavalcade, topped and tailed by police outriders, of some 40 full sized coaches travelling at speed and bearing the assembled island mothers on their annual outing. A local resident, ushering our chums to the safety of a hedgerow, told them that the trip does not involve any stops but is always fully subscribed. "Mothers" she explained, "are big in Barbados". It may be unchivalrous to ask what the dads, sons and daughters get up to once the materfamilias is safely encoached for the day: one must assume they are occupied in preparing a fine Sunday treat for the returning mum.
Talking of food, as I find I often am these days, it would be hard to beat Barbados. There are some very top of the range places including one we visited on our last night, where they insisted on taking our keys to park up for us – although our parking space turned out to be fewer than ten yards away. On leaving after our meal, the jeep was brought up for us – but, with the driver's seat on the far side of the vehicle, I pointed out that having to walk round it was a longer trek than if I had fetched the thing myself. My wife said shush, or words to that effect.
A first for us on this trip was taking afternoon tea at Sandy Lane. The overnight tariffs may fly somewhere above our heads but the tea was generous, affordable and beautifully located. I attempted to tease out from our waitress whether we might spot any celebs during our visit but she was justifiably impervious. She also saved us significant cash and the prospect of an embarrassingly large doggy bag by pointing out that tea for one could easily feed a medium sized family reunion.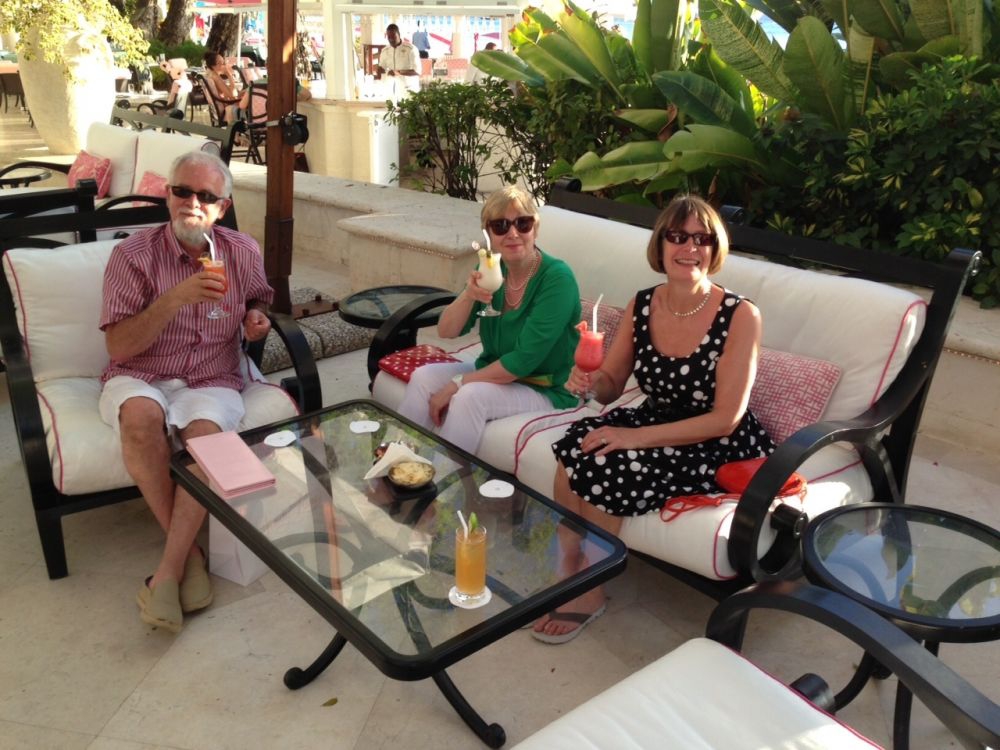 Brown Sugar is a favourite of ours, nearly opposite the Garrison Savannah, and I have over the years worked conscientiously through its shrimp options. On this occasion it was disconcerting to experience the rum cake that I had ordered shimmering beneath a haze of concentric wavy lines of the kind you might associate with a cartoon of a tramp in the Beano magazine and the word "smelly" in case you didn't get it. The aroma of neat rum hit me like a wall, my eyes began to water and a hangover kicked in before the first spoonful reached my mouth.
I will also put in the most positive of words for Apsara, one of my favourite Indian restaurants anywhere, which – I'm delighted to say – has clearly survived relocation to its wooded, beachside site at St Lawrence Gap from its previous, slightly uninviting position behind a filling station.
And what of Oistins? After all, we ate there more often than anywhere else during this holiday. Very handy for the Bougainvillea of course, just along the Maxwell Coast Road. We had on our very first Friday evening in Barbados, some five or six years ago, encountered the wonderful experience that is all-comers ballroom dancing. What's not to like about combined fish fry and foxtrot? On several repeat visits we had stood, wallflower-like, while residents and holidaymakers demonstrated their best moves. "Helen and Phil would love this" we said, of our Manchester friends who have over recent decades rivalled Bruce Forsyth in their commitment to the terpsichorean art. And, in a moment of untypical bravado, my wife and I took up dancing lessons last autumn in a misguided attempt to impress at this year's Friday night visit to Oistins.
Well, thanks to Ralph at the excellent Chillin' and Grillin', where we had eaten earlier in the week, we were treated on dance night to a table for four in a prime spot at the edge of the dance floor – that is, the stretch of well-worn tarmac between the bar and the beach. After polishing off our mahi mahi, shrimp or dolphin with macaroni pie, sweet potatoes, rice and peas and salad, we were reluctant to risk losing the table by venturing onto the floor altogether. But eventually, fortified by Banks, I was able to lure the wife out into the danger area and we cut loose with our best (actually our only) moves. True, in the lamentable absence of our dancing instructor who had not accompanied us from Sussex and was inexplicably unavailable on Skype, we had to be instructed by our Manchester friends on what steps to attempt to what music, but hey! We were out there and the world will never be the same place again. Other than me catching an alarmed local resident with a flailing arm during our cha cha – at least, we were dancing a cha cha, I have no idea what she was doing – I don't believe we caused any actual or grievous bodily harm.
I know we'll be back, with sharpened elbows, so you've been warned. I can tell you this: if you do enjoy sun, sea, sand and snorkelling, Barbados is exactly what you're looking for. And if you don't, it's even better.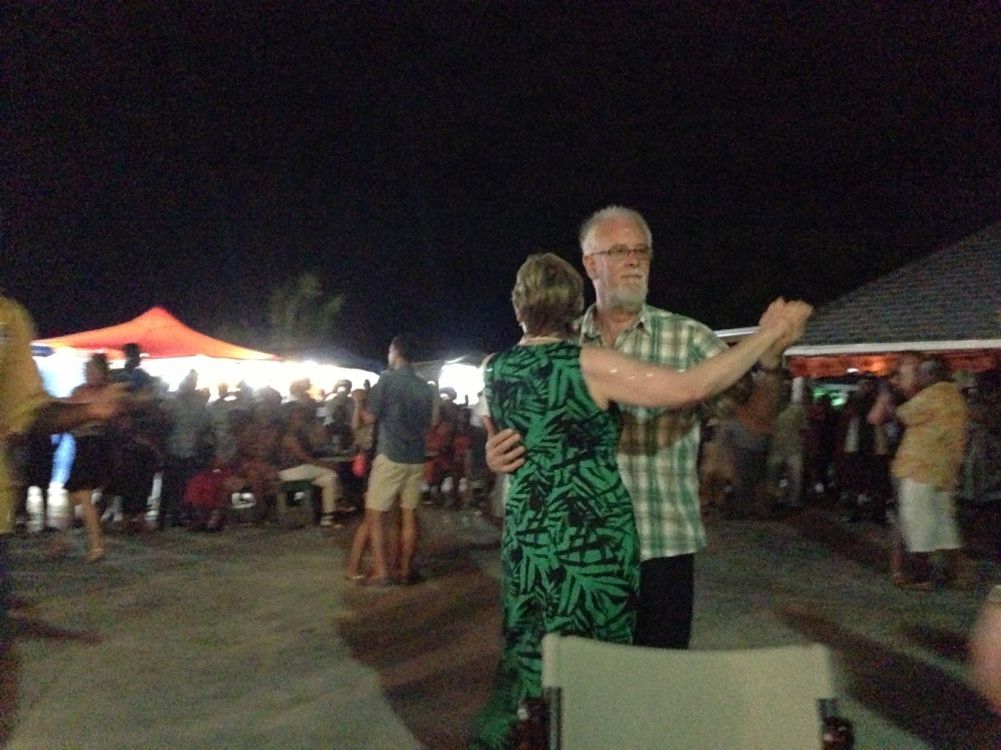 From
Wikipedia: "Fado is a form of music characterized by mournful tunes and lyrics, often about the sea or the life of the poor, and infused with a characteristic sentiment of resignation, fatefulness and melancholia, loosely captured by the word
saudade
, or "longing")" There really is no excuse for this kind of thing. This is one for laying down carefully in your
collection,
and avoiding.
Steve Ankers works as an environmental campaigner in the UK. He has co-authored two satirical books on town planning and writes and blogs on travel and other subjects. He worries about his global footprint and Liverpool FC. Steve lives in Lewes, East Sussex, with his wife, Margaret, random pets and occasional visits from their daughter, Mairi, when she wants something. His next book, "It's a Dog's Life for the Other Half", tells the heroic story of his life, a sane man surrounded by vets, and is due out later this year. The new tome has already received such rave reviews as:
"Hilarious and eminently readable" 
- Terry Jones (of Monty Python fame)
: prepare to do one of those A Dog's Life...'A word of warning before you start to read '
- Marie Carter, Editor, Pets magazinemarathon reads that takes you from dawn till dusk. The book is just that, thoroughly unputdownable, unlike some of the more desperate animals featured in its pages. Filled with amusing anecdotes about life married to a vet and with a vet as a brother, Steve Ankers is entertaining, enthralling and totally engaging. A Dog's Life should be read by anyone who likes to people watch, who loves animal antics and who has the desire to read something filled with spirit and good humour. I recommend you set aside the day to binge on this brilliant book!'
Follow Steve's blog at: sankersblog.wordpress.com