DJ DustyPayne
Professional Disc Jockey
Entertainment
Wonderful DJ for a wedding reception or any party! Lovely, friendly personality and very professional. He definitely knows how to get the party going!!!!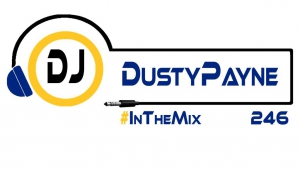 DJ DustyPayne is very popular on the Barbados wedding and party scene. He plays a broad selection of music, from everyone's favourite Golden Oldies and chart toppers, to the very best in calypso, reggae, rock & roll, pop, R&B...you name it, and he probably can play it!! His efficiency, reliability and overall professionalism, coupled with amiable humour and a most infectious ability to persuade people onto the dance floor set him above his contemporaries. Adrian 'Dusty' Payne knows how to spin the right tunes to get any crowd into the party mood. As an extra he also offers PA system rental and lighting effects - you know it's not a party without the punch!
DJ Dusty comes highly recommended, as the following comments from his fans and clients show:

We want to give DJ Dusty A big shout out, who was our DJ for our recent wedding held in Barbados, on 2/22/20.

DJ Dusty was awesome! He was very professional in helping us plan our destination wedding reception party. And what a party it was! He made our communication from New York to Barbados seamless and was fully prepared when we arrived in Barbados. He put us at ease, even though we were very far away during the planning stage. DJ Dusty has some smooth MC skills and has a gift for feeling the energy of the crowd, playing the right music at the right times which created a very exciting & lively atmosphere at our wedding reception. He kept our guest on the dance floor all night long!!

Thanks DJ DustyPayne!!

Roger and Teanne Neal.
February 22nd 2020

DJ DustyPayne is a professional DJ. He met with me one day prior to the event to coordinate and view the landscape for my party. The following day he came early to set up his test and set up the equipment. I was particular about the music, DJ Dusty Payne stuck to the script, even playing the last song on time to close out the event. I appreciated him and will definitely book him again for my next event here in Barbados. Thank you so much DJ DustyPayne.

Keta Carter
September 2019
Dover Beach Hotel​

DJ Dusty played for my wife's 50th Birthday Party. From the first time we met, Dusty was on-time, very reliable and met all of his commitments. He offered many excellent ideas, including suggestions for lighting, several of which we accepted. DJ Dusty's song selection was very good......not only did he play the selections we asked for, he gauged the mood of our guests and responded with great tunes, leading to many dancing. We wouldn't hesitate to recommend the services of DJ Dusty and definitely will plan to use him again.

David & Cynthia.
June 2019.​

Hi Dusty,

Kristof and I have just gotten back to London and are already missing the Barbados sunshine. We're also finding it hard to believe that our wedding was already over a week ago!

We wanted to drop you a note to say THANK YOU so much for being such an amazing DJ for our wedding! You're a legend! The music was fantastic, the dance floor was always occupied, and our friends and family have been telling us what a wonderful time they had dancing the night away. Thank you for doing such an amazing job reading the crowd, keeping people dancing (and helping to prevent any ceiling fan related injuries)!!! We really appreciate it - having everyone on the dance floor the whole night helped to make the day so special for us.

As we mentioned we're very happy to write a review (or multiple!) for you! I think you told us at the end of the night where to submit it but I confess that I can't now quite remember but if you can send us the instructions we'll happily send one through.

Thanks again!
Marie & Kristof
Lonestar Restaurant
8th. June 2019​

When we first approached Dusty to be the DJ at our wedding, he was very quick to respond and professional. We confirmed our dates, and he quickly followed up with our wedding planner.

We confirmed our taste of music and he met us in person for a detailed overview of the night.
During the meeting, he made sure we touched on every key moment of the night, and made sure we were all aligned with the plan. He even went as far as to give professional recommendations on the timing of some of the key moments (for example, speeches).
That being said, the night went on without a hitch. Dusty worked extremely well with our wedding planner to make sure that the right lighting and songs were played at the perfect moments. Not to mention that the dance-floor was never empty!
In addition to this, Dusty performed an excellent job as our MC for the night. His communication and timing was outstanding.
We would wholeheartedly recommend Dusty for any wedding. You will not be disappointed in the slightest.

Kevin & Elyse
Champers Restaurant, February 2019

From start the finish, we had a good experience working with DJ Dusty Payne.
The entire ceremony was arranged from abroad and I found his page on the internet searching for 'best DJs in Barbados'. He as affordable and did not disappoint.
He was friendly and well prepared for our consultation. As the wedding was a combination of Barbados and Zimbabwe it was important that we had a good mix of music between two the two cultures so everyone would be involved. We were impressed by the wide selection of music which he already and shared some of ours.
On the day, he was prompt and well set-up given the size of the room. The music flowed well and we had an absolutely fantastic time - both sides of the family! He even went as far as to share video footage of the room for us before the guests arrived which was very thoughtful.

Thanks DJ Dusty Payne for helping to make our day special.

Samantha & Akhani Mbano
Hilton Barbados Resort
April 2018​

DJ Dusty Payne is A GREAT FIND
Having decided to get married in Barbados and not doing the normal hotel route we found a lovely venue in Hugos, Speightstown and then searched for a great DJ. Dusty was found on recommendation and what a great recommendation he was.

From the very first contact on "WhatsApp" to the first meeting, Dusty was nothing but professional and approachable. He listened to the ideas we both had and also offered his own. The sparklers for the first dance was inspired!. He asked us what type of music we liked. We created our own playlist for the ceremony, made suggestions for additional music and then Dusty created our own for the reception and the evening party. WOW! All our guests loved him. He judged them all very well and the music for a sing song while the meal was taking place was the best ever. You know this much is TRUE!

Without hesitation we would recommend Dusty. Our guests were dancing all night and even when there were only a few stragglers he still continued to play. I think he tried to escape three times but our guests were having none of it.

In addition he took a fantastic video of our first dance and that is something we will treasure always, together with the memories of a great guy.

Dusty we need to find another excuse for a party!!


Nicola & Jon McKellow
Married 9th April 2019 Hugos Speightstown.


DJ Dusty was the DJ at our daughter's wedding in Sept 2018. From our first contact with him we found him to be very professional, helpful and easy to work with. Even though we were late with providing him with the selections of music we wanted, he was very accommodating. On the night he read the crowd well and kept the party going on the dance floor all night. We would highly recommend him as a DJ for any event.
Kevin & Nesta Watson, September 2018



'DJ Dusty Payne was exceptional and played all the songs we wanted to listen too. He played all the latest Soca music and Haitian Kompa. Myself and my wife were truly satisfied with his DJ services and he made our wedding day truly special. - Dimitry & Araba Nazaire' - Wedding reception on August 18th 2018 Royal Pavillion.

'DJ dusty absolutely made our wedding!! He was very accommodating with all our requests and we can't recommend him enough!!! Thank you, Dave & Danni​' - Mr. David & Mrs. Danielle Sleight, 24th. July 2018

'DJ Dusty was a fantastic choice for our spring wedding. From reading previous reviews, he appeared to be outstanding and based on our experience, those reviews did not lie! We decided to go with him as he was recommended by a relative who knew him on a personal level. When we first emailed him, he promptly provided a response to the packages he offered and was extremely professional and knowledgeable. We were also impressed with the fact that he offered a wireless microphone for speeches and lighting equipment!

With so many factors to consider in coordinating a wedding, it was wonderful having a DJ that was so proactive, organized, and enthusiastic. During the month of the wedding, we had our first face to face meeting to discuss our music selections and we hit it off immediately!

On the day of the wedding, he most certainly delivered an incredible performance. Dusty seamlessly facilitated transitions between to the cocktail and dinner areas and after our first dance, we partied all night long - It felt like he knew everyone personally and played music to accommodate all our guests! The dance floor was alive the entire night, he was very flexible with last minute requests (e.g. the bridal party wanted to enter the dinner reception to a different song) and several of our guests are still telling me how amazing Dusty was! He even went above and beyond and provided video footage of the cocktail and reception areas. We really appreciated this as the day went by so quickly and we missed quite a bit of the scenery.

We are so grateful for all that Dusty did to make our wedding day so magical and we highly recommend him for any celebration. He is genuinely a nice person and he can most definitely get the job done!' Lystra and Terry. Wedding - May 27, 2017

'DJ Dusty, THANK YOU for helping to make our Destination Ceremony one to remember! Anson and I appreciate your attention to detail .... playing specific songs we requested. Not only were you detailed to our needs, but you read the crowd/guests and made sure you were able to get them out of their seats and moving! We appreciate the footage of the reception you provided as well! You are an excellent DJ and we are grateful for your services provided!' - Ravine and Anson Park, The Crane 2017-06-10

'Hi Dusty, Almost a week has gone by since our fun filled party! Thank you so much for making it such a great success! Everyone seems to have had a good time and commented on the great music! A whole bunch of us are now suffering from some cold or flu virus which could have been caused by wet bathing suits in the cool night air!! Thank you again for all your great music which had everyone dancing and having fun. Look forward to seeing you again in the near future! ' Teddy and Pat Grell, February 2017

'Hi Adrian,We just wanted to emailing you with a review as we were very very happy with what you did for us. We were planning for a wedding in Barbados from the UK and were recommend Adrian by our photographer Gina Francesca, his communication by email was efficient and he was happy to answer any questions. Once we had arrived in Barbados, Adrian came to see us for a site visit and was very friendly but professional. On the day of the wedding Adrian played a selection of music off our requested playlist, all our guests had a lovely evening and were up dancing to the very end!
He even sent us over some videos he had recorder from the dj booth of our guests dancing which was brilliant to see the next day. He captured some bits none of us had!
Thanks again for helping us make our wedding day so memorable!
We would highly recommend DJ Dusty!
Love the new Mr & Mrs Caple. X'




'My name is Lisa St John from Island Bliss Weddings, Barbados. We do mostly destination weddings and some local weddings on the island. We have been in this business for the past nine years! For awhile I have I refrained from giving this review to DJ Dusty Payne because I have to work with other DJ's that some of my couples request but I have come to the decision that kudos should be given to who deserves it!!
Without a doubt DJ Dusty Payne is the best Wedding DJ I have encountered! He has a gift in reading the guests no matter whether they are from our homeland Barbados, the Caribbean, UK or USA to name a few or any other part of the world for that matter! But not only does he have a gift he does his homework! Apart from the couple's request, he reads the script, and then always calls to ask for background information i.e. their age, the age group of the guests expected to attend the wedding, where the couple is from and where most of the guests will be coming from etc. Then he does his research and gets his own play list of music together that he thinks they would like! Ten out of ten times they are pleasantly surprised! It could be Indian, African, Country & Western etc they all love it! I will share a little story....We recently had a wedding where the band jammed for 2.5 hrs and I was worried about how DJ Dusty Payne could come back after a session like that and keep the party going! Well the band finished and the first song he played everyone went nuts and the party just kept going. By the way that was not the first time this happened ....its just that I get a little nervous about keeping the party going after a band but as usually he always makes it happen!! When you do get the pleasure of meeting Dusty, he is a very calm, quiet guy but dont let that fool you because my goodness when he gets behind his controlls and its party time....we all laugh and say he gets into the 'POWER'! I say thank you DJ Dusty Payne for sharing your gift and it has always been a pleasure working with you and I look forward to a continued working relationship!!' Lisa St. John, Island Bliss Weddings, Barbados.

'We found the service of Adrian to be of exceptional quality. His operation and approach to client discussion, music delivery, equipment set up, crowd engagement, knowledge of people and the dynamics of the occasion have left an impressive mark on our mind and the minds of all who attended our wedding. We would gladly recommend his services and look forward to any occasion where we can use his professional skill sets again.' Tomilson and Ishaka Bynoe
'Had the best party ever last night thanks to Dusty. What an amazing DJ, brilliant at judging the mood of the party and had the most fabulous selection of music. Wouldn't think of throwing another party without him !!' Carol Clark, Melrose House. December 30th 2015
'Dear Adrian, Thank you so much for getting the party to be such a success, yet again! Everyone had a wonderful time and commented on how great the music was, and so it was!! Luckily no Teddy doing back flips in the pool this time! Look forward to throwing another party in the near future and you will definitely be asked to play for us again. All the best' Teddy and Pat Grell' November 21st. 2015.
'DJ Dusty was a fantastic DJ for our recent wedding in Barbados. We met with him several times before the wedding and communicated by email before the event to ensure that the music was perfect. Dusty was able to accommodate our preferences and ensure our confidence with a custom mix made from some of our favorites a few months before the wedding. Day of, we were also impressed by Dusty's breadth and ability to mix easily between old school hip hop, new bangers, Soca, West African high life and the newest Nigerian hits; basically he kept everyone on their feet and everyone happy. Most importantly, he checked in several times with us, the bride and groom to ensure we were happy with the music. Overall, Dusty does a great job of both being a professional and bringing the party. Thanks very much, Dusty, for an unforgettable evening.' Folu and Akua, Brooklyn, NY
'Dear Dusty, Thank you so much for an amazing night of music. We had such an excellent night jamming to your mixes -- it's something we'll always remember. Thank you again.' - Hana and Brian
'DJ Dusty is a true professional. He was our wedding DJ at the Fisherpond House last week. He definitely knows what he's doing and was a pleasure to work with. And yeah, he knows how to get the party bumpin'. ' - Andy Duddleston, New York City
'You can't have a good Party with out good music! Thanks to Dusty my 50th was a fantastic one! I will always remember it, and so would everyone that was there. Dusty is an easy guy to work with plays exactly what you want! He came highly recommended and he's a keeper. Can't wait for our next fete!' - Jacqueline Hamel-Smith, Barbados
'Having known Dusty for several years, I have no hesitation in recommending him as a DJ for whatever party you are having. At a recent fundraiser, he ensured that those in attendance had a night to remember. He is well known for his adaptability. His music is current and his style is smooth. No matter the occasion, Dusty is one of the best.' - Sonya Alleyne, Barbados
'hi dusty, how are u? am from toronto, ont, canada i was in bim this past summer i heard u played and man ur too sweet am really into oldies golden oldies' - Wayne White, Canada
'Dusty knows how to get people up and dancing. He has a wide selection of music and is always up to date with the latest music. He knows what the teens like and mixes it up to ensure that their parents hear their favorites as well. He is very friendly and accommodating. A nice guy and is very professional in his manner and behavior. He always plays at our school events.' - Inga de Reus, Barbados
'Dusty played for a wedding I co-ordinated for some English guests who thought he was fantastic. I thought they would stay up all night long, or until their feet hurt, whichever came first. I've heard Dusty at social events and parties where he always gets the crowd going. Always making sure the crowd is moving and grooving!!! DJ DUSTY ROCKS!!!!' - Candi, Barbados
'Please dont forget [jan 2013]. lastv year was a bomb and we must have you back.' - Peter Harris, Barbados
'Dusty played at my daughter's wedding and played a variety of music. He was very agreeable and helpful and I would certainly recommend him to others.' - Margaret Wallace, England
Budget
Best For Whom
Best For What