Janice Sylvia Brock - Artist
Barbados
Art Galleries What to do if it rains Souvenirs Home and Decor Art
If you are looking for a bright, colourful and tropical piece of artwork to take back with you and admire, Brocklands is the gallery for you!
A master of colour and form, Janice Sylvia Brock has gained international acclaim. Her work has been likened to that of Matisse and Chagall, though the vibrant hues and the sense of movement are uniquely Brock. From the first touch of colour laid onto the virgin canvas her brush strokes are utterly confident, and this is evident in the result: works which resonate with life, sensuality, and occasionally humour.
Her paintings are keenly sought after on both sides of the Atlantic. In the USA the White House has two of her pieces, while in the UK she was recently invited to exhibit in the prestigious Saatchi Gallery.
At 'Brocklands', her studio gallery overlooking the ocean in St. James, much of her recent work is on display, as well as prints of selected paintings, in over 500 square feet of exhibition space. You can also see work in progress and chat with Janice about her art.
Viewing by appointment.
Order a Coffee Table Brochure
Enhance your coffee table with a brochure illustrating a selection of Janice's paintings, with her thoughts on the inspiration behind each work. Included are illustrations of a painting in stages of creation, which give an unique insight into how Janice goes about painting a major piece. Preview a few pages of this 16 page brochure below.
Fine Art Cards
A vibrant collection of images from Brock originals make for a delightful way of sharing art with loved ones.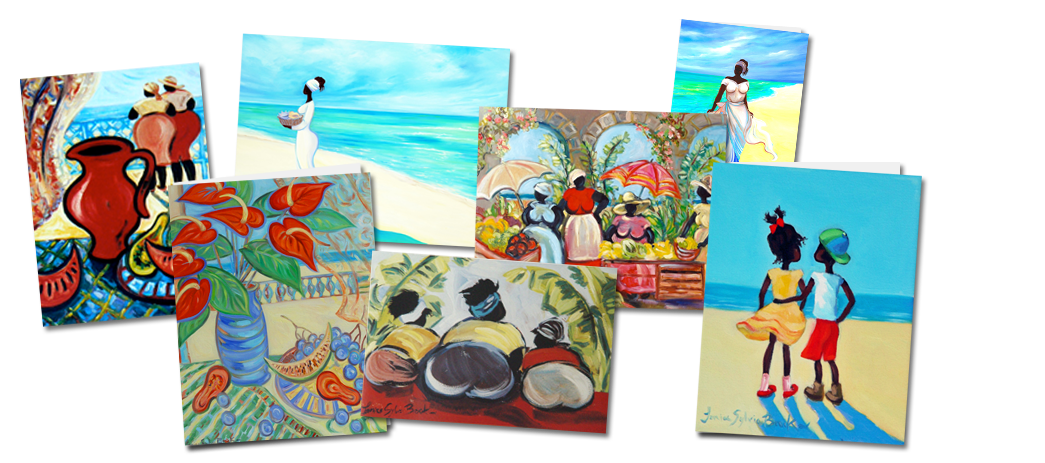 Measuring 8 x 6 in (20 cm x 15 cm), each card depicts one of Janice's paintings and is blank inside for personalisation. These are sold in packs of 10 different cards from a range of 33 designs, and come with envelopes. Each pack costs GBP29 (plus GBP2.25 p&p) Click on the image or Paypal icon below to purchase online.
Best For Whom
Expats

Couples

Mature Travellers