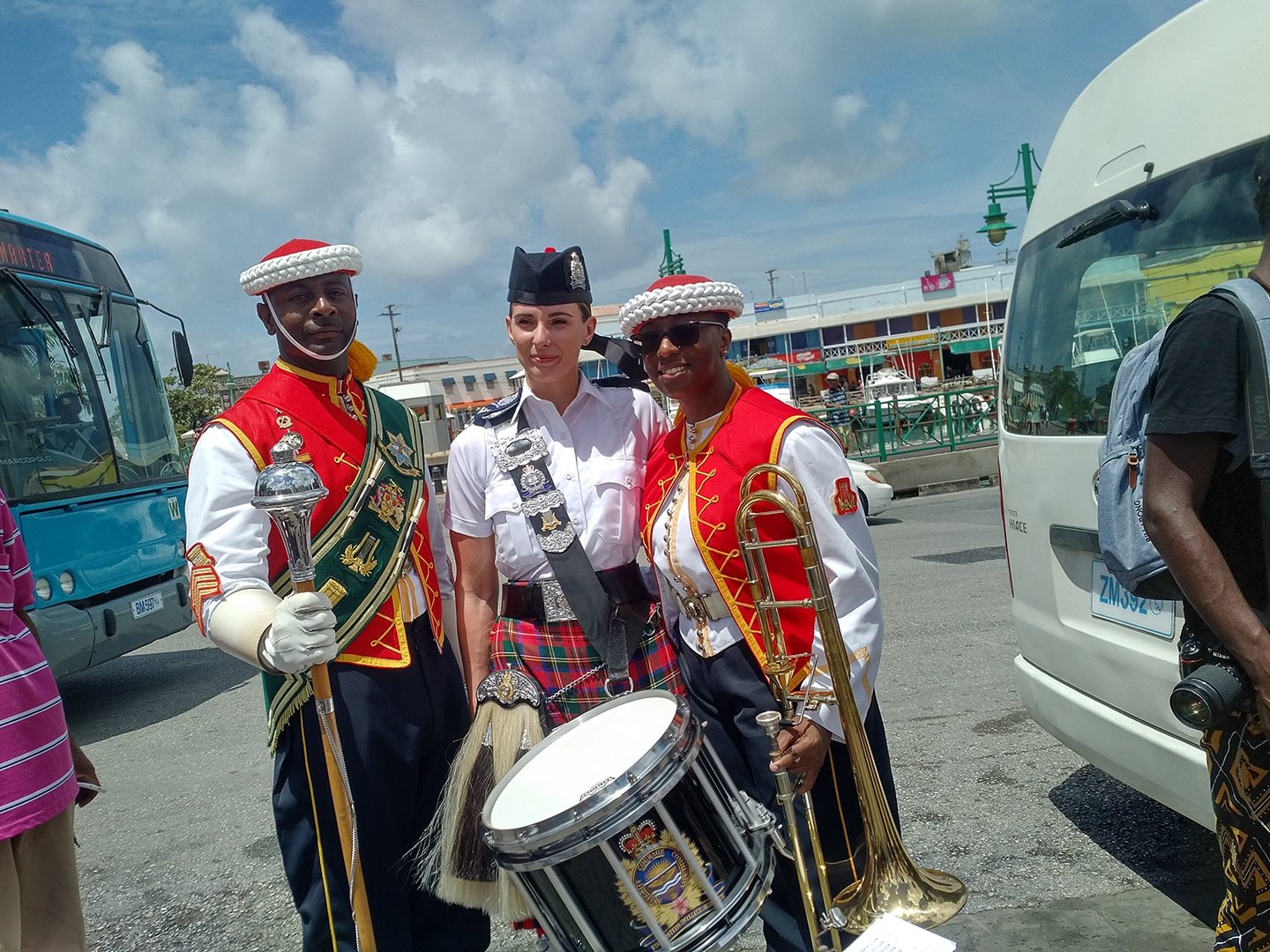 Barbados Celtic Festival
Arts & Culture Editorial Family Fun
- An International music and food festival
I first visited Barbados in 1999 I fell in love with the island, like so many visitors I know. When I ask and I agree, what brings us all back time and time again, is the people. The amazing bright colours enhanced by the glorious sunshine twelve hours a day, beautiful coral sand beaches, and amazing people.
My first experience of this Celtic Festival in Barbados was when some visiting bagpipers surprised me with a welcoming tune at my hotel – a good friend had organized the surprise welcome. 2011 I had agreed to help develop and promote it, and – I encouraged some sponsorship which enabled us to bring the top folk acts from Scotland to Barbados.
History:
The festival began in the 1990s – when a Welsh lady living in Barbados, Ruth Williams, hosted an amazing male voice Welsh Choir led by her father. They performed in the Frank Collymore Hall in Bridgetown, and everyone still remembers this stunning performance.
In subsequent years Scottish pipers came and played, beach games took place, Irish dancers tapped their shoes. Since 2011, we have seriously put Barbados Celtic Festival on the folk festivals map around the world – and I know that from the number of enquiries we get from folk musicians around the world who ask to perform with us at future events.
Our events gather large audiences of local people on the island and of visitors and guests from around the world. At last years piping events, our pipers came from Scotland, Australia, Switzerland, Canada, and the USA.
We began to fuse our music between the countries and the Caribbean in 2016, and have continued to do so, with our pipe bands playing with the Barbados Defence Force marching band, and the Royal Barbados Police Band. A large fiddlers group from the Scottish Borders played with 40 Barbados Suzuki violin school pupils.
Our Scottish folk musicians have played with local Bajan Spouge bands –we played a traditional Scottish folk tune, "Wild Mountain Thyme" only in a reggae style. It was awesome! And since 2011, our Chef award winning Paul Wedgwood from Edinburgh Scotland, has been fusing our food culture – using Scottish recipes with Bajan ingredients to create some really interesting dishes at our Sunday Lunch events at Atlantis Hotel on the east coast in Bathsheba, working closely with local chefs, using local ingredients to create a fusion of flavours.
There is a great history of Celts in Barbados
The ex pat Scots ,Welsh and Irish who have made Barbados their home, truly enjoy the festival and turn out in their kilts to dance and support. You would expect that we bring tears to their eyes to hear the music of good Scottish musicians playing for them in Barbados and makes them quite homesick! But there is a long history of Scots in Barbados which goes back to 1745 – when Scots were purged by Cromwell and sent to the West Indies. And some of their descendants still live in Barbados today. Our festival also takes place simultaneously with the Barbados SOL Motor Rally which has many Scottish and Irish teams who join in our fun.
Geneology
And Bajans are very interested in their history – and there are many links with Scotland, my homeland. Bajans have Scottish forenames like Andrew and Allister, and surnames like Macdonald and Grant, and Griffiths, a Welsh name.
It's intriguing if you look through the local phone directory at these names. And Barbados Independence Day was decided to be the 30
th
November, St Andrews Day – St Andrew being also the Patron Saint of Scotland. There is a Scotland District, a Saint Andrews Parish and lots more to connect our two cultures.
When we delved into the records last year in the Barbados Museum, for a history programme for Scottish Television, we found out so much more about how we are connected. We found the surnames of Scots who were purged from Scotland in 1748 – surnames from the Highlands and Islands.
And we learned then that the reggae drum beat comes from our Scottish military drum beat, something we learned in the Museum from the director – and its connected to the local TUK band drum beat too. If you look at the Emblem of Barbados, which is on the back of a silver Bajan dollar coin, you will see the hands of a slave holding up "crossed canes", sugar canes, which are in the shape of our St Andrews Cross, Scotland's "Saltire" flag.
This years festival stretches the Celtic boundaries and music comes from Scottish musicians playing soul and funk which hit the charts in 1975 and took the USA by storm.

For more information visit:
www.barbadoscelticfestival.com
Written by:
Carol Anderson
PUBLISHED: May 23rd 2018