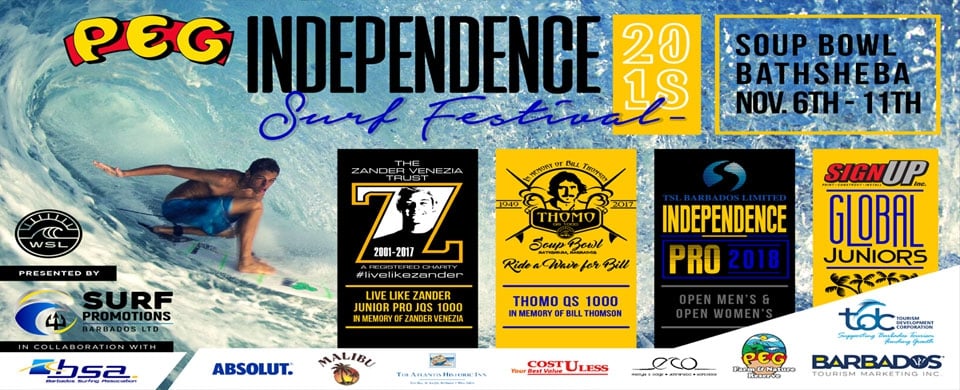 PEG Independence Surf Festival 2018
barbados
Tue Nov 6th 2018 to Sun Nov 11th 2018 at 08:00 until 18:00
---
Barbados
,

Soup Bowl

,

Bathsheba, St. Joseph

Barbados
https://www.myguidebarbados.com/events/peg-independence-surf-festival-2018
VISIT WEBSITE
Event Details
The Peg Independence Surf Festival 2018 is going to go down in the history books as one of the largest surfing events the Soup Bowl Beach in Bathsheba has ever seen. Surf Promotions Barbados Limited has joined forces with the Barbados Surfing Association who is celebrating 35 years of surfing contests in Barbados.

This year's Festival will be attracting over 120 competitors from 10 countries. The Festival is made up of 3 surf contests combined:

The World Surf League (WSL) North American Region, Live Like Zander JQS 1,000 Boys and Girls in memory of Zander Venezia - this event is critical to see who will qualify for the World Junior Championships 2018 held in Taiwan.

The WSL Thomo QS 1,000 Men's in Memory of Bill Thomson with the WSL North American regional title on the line, which is a fast track to the QS1,000s, and

The TSL Independence Pro, started by Peter Corbin and Bill Thomson which will show case an Open Men's, Open Women's, and the Global Juniors under 16 and under 12 Juniors Division.

These events will take place from November 6th-11th, 2018.

Along with the celebrating of our 52nd year of Barbados' Independence, there will also be a PEG Lifestyle Village with Healthy Foods, Drinks and Ideas to a better fulfillment of the body mind and soul. Not to forget the fun side of life. There will also be daily DJ music accompanying the hot surfing energy with bikini body's roaming around the beach.

The evenings will set a different tone with party nights on Thursday, Friday, Saturday and Sunday:

Thursday night will be just a couple of steps away at the ECO Lifestyle & Lodge for some acoustics Jams and lots of eats and drinks.
Friday night will be at the ROUND HOUSE for BATHSHEBA ROCKS event! No cover / come as you are (shoes optional, only requirement is shirts and bottoms = no swimsuits;) BBQ, flowing drinks, friends, live music and a laid back lounge vibe are all on deck.
Saturday night will be on the beach with the crowning of the Thomo QS1000 Champion as well a sundowner party with live entertainment.
Sunday night will be the crowning of the remaining Champions for the Live Like Zander JQS 1,000 Boys and Girls, the TSL Independence Pro Open Men's, Open Women's, and the Global Juniors under 16 and under 12 Juniors. All this followed by a good time at the Atlantis Hotel who will host the farewell and thank you dinner with live entertainment and great food available and drink specials.